---
---

 Sandro Chia di Castello Romitorio 
Royale Brunello-Rarität
CHF 355
 excl. Transport & TAX
2015 Brunello di Montalcino, Riserva
Brunello di Montalcino DOCG
Toskana
1.5 L (OWC-1), also in 3L and 5L available
Very rare Brunello masterpiece from the sun-drenched 5-star 2015 vintage, which is only produced in absolutely exceptional years and only in very small quantities (just under 7,500 bottles). 
Roman Rüdisühli: The grapes are rigorously selected and come from the oldest plots not far from the Castello. Noble, expressive nose, radiates a cosy warmth, ripe but extremely delicate primary fruit aromas. Red and black berry fruit components, hints of violets, rose petals, fresh blackberries, dark cherries, a touch of chocolate, cedar and some smoke. The Riserva is stunningly elegant, sensual and profound with perfect balance and an almost unbelievable aromatic intensity. Romitorio's Riserva is not a screamer, yet it amazes with sublime power and fabulous refinement. Wonderfully velvety tannins lay themselves across the palate, a wine full of grace and gracefulness.
Grape Variety                     Sangiovese
Maturity for enjoyment     Now till 2041
---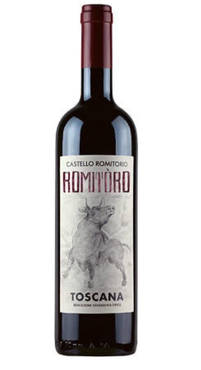 Sandro Chia di Castello Romitorio 
The beloved One.
CHF 236
 excl. Transport & TAX
2017 Romitorio
Toscana Rosso IGT
5L (OWC-1)
This is an exceptional wine that completely thrilled us right from the start! The grapes of the unusual but absolutely convincing blend of Syrah and Petit Verdot come from the southern Maremma, where father and son Chia realised early on that the two varieties really blossom in the coastal climate of Tuscany. While the Syrah brings in the spicy intensity, the Petit Verdot provides density and structure. Muscular, very expressive wine with lots of dark and slightly sweet fruit (blackberry, ripe plum), but also with spicy notes such as cedar wood, barbecue herbs or tar. Long, full-bodied finish. Already great fun, but can also be safely left in the cellar. Definitely has what it takes to be a crowd favourite!
By the way: the 2016 received an outstanding 95 points from Parker's Wine Advocate!
Grape Variety                      50% Syrah, 50 % Petit Verdot
Maturity for enjoyment      Now till 2032
---

Sandro Chia di Castello Romitorio 
Rare Brunello of extra Class!
CHF 676
 excl. Transport & TAX
2016 Filo di Seta
Brunello di Montalcino DOCG
5L (OWC-1)
Roman Rüdisühli: While the already brilliant 2015 Filo di Seta narrowly missed the maximum score, we have no choice with the brilliant 2016: a well-deserved 20 points for one of the best Brunellos of the vintage! An absolute picture-book Brunello from the somewhat cooler single vineyard Filo di Seta (Silk Thread), named after a stream that flows through a forest in the immediate vicinity. The nose alone is a dream - incredibly fresh, beautifully perfumed and wonderfully complex. Very floral (peonies), some hay, ripe sour cherries, plums, cloves, a touch of incense, new leather, musk and bourbon vanilla. On the palate, the Filo di Seta is powerful with an extremely elegant texture and silky fine, polished tannins. Compared to the basic Brunello, it appears much more masculine and taut. The single vineyard is expressed to the highest degree: Sangiovese complexity at its finest, paired with impressive depth. It's all still incredibly primary, but nevertheless already extremely enjoyable. The wood is perfectly integrated and the finish is great with fantastic length. You can only guess what a sensational wine experience awaits you after a few years of ageing. 
Grape Variety                     Sangiovese
Maturity for enjoyment     Now till 2041
---

In Monferrato, in Piemont, surrounded by a hilly landscape, is the home of Distillerie Berta. The landscape seems completely untouched here. The distillery was founded in 1947 by Paolo Berta. In 2002, a spacious new building with barrique cellar and new steel tanks as well as state-of-the-art communication technology was inaugurated. 
---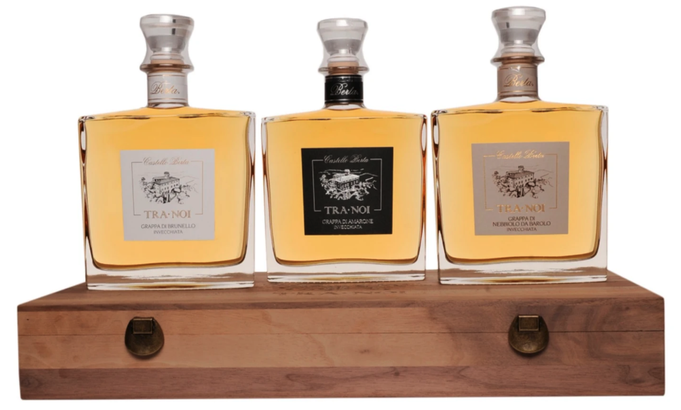 Berta 
TRA NOI
CHF 297
 excl. Transport & TAX
Grappa, 3x 70cl, Piemont, Italien
Nebbiolo, Brunello, Amarone
Dry, Fruity, Light, Delivered in Wooden Box
42 % alc.
Matured in barrels made from Swiss cherry trees. In the wood of primeval Switzerland, the noble grappas of the TRA NOI collection develop incomparable flavours. Because Italian sensual pleasures and Swiss craftsmanship harmonise perfectly.
---
Berta 
Elisi
CHF 248/ 3L

CHF 545/ 6L
 excl. Transport & TAX
Grappa, Piemont, Italien
50 % Barbera, 25 % Nebbiolo, 25 % Cabernet
slightly sweet, a bit dry, not too havy
43 % alc.
Structured on the nose with enveloping aromas of cocoa and cherry. The impression on the nose is amply confirmed on the palate. A classic with a powerful bouquet and a long finish. 
This grappa is the result of a careful selection of exquisite grappas aged in Troncais d'Allier oak barrels over the last 10 years. The combination of different vintages and grape varieties give this grappa elegance and complexity.
---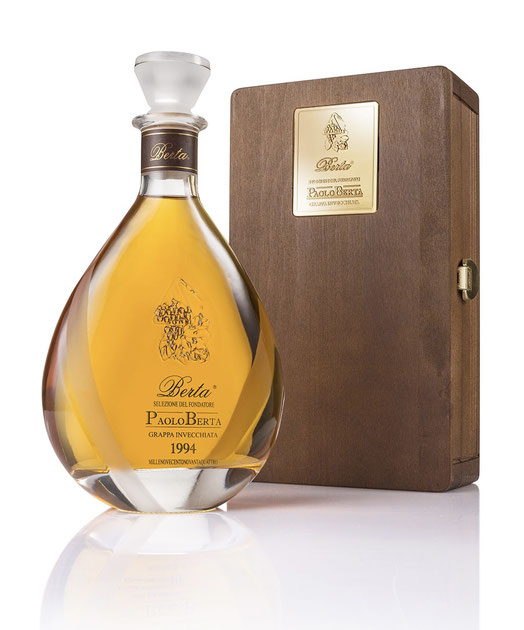 Berta 
Paolo
CHF 204
 excl. Transport & TAX
Grappa, 70cl, Piemont, Italien
 Nebbiolo, Barbera 
slightly sweet, a bit dry, ful of content
43 % alc.
Named after the founder Paolo Berta. Structured, powerful, enveloping on the nose with great personality. A beautiful interplay of ripe fruit, cherry, tobacco, cocoa and vanilla. 20 years in barriques made from different essences.
---